Our Downey Plumbers Are the ClogBusters!

It's not fair to say that we've seen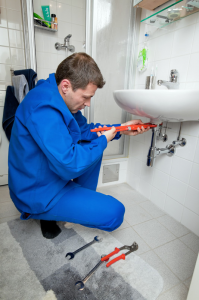 absolutely every plumbing issue that could ever happen, but if it was we would. We've seen more strange things flushed down toilets and more ridiculously routed plumbing systems than you could ever imagine. We've seen exploding water heaters and pipes so thick with grease that we had to clear out our auger head hundreds of times to get it clean. This is why our Downey plumbers have vans stocked with hundreds of tools and thousands of replacement parts. You never know when a pipe hanger or anti water hammer device is going to be needed. Sometimes we get calls about clogs only to find out that the problem isn't the drain system at all, but the hard water that caused the build up in the first place.
As your Downey plumbers, we are your specialists when it comes to the highly technical world of plumbing. Where the stereotype used to be overweight men with ill fitting pants, the new plumber is more like a Bill Nye the Science Guy armed with a leak detection wand and a digital moisture reader. We may not offer services in the same way as they did 50 years ago, but what we do offer is often better and less expensive.

If you have a problem with any of the following, give a Downey plumber a call now: